CNHA Alumni sign NHL Contract, Wagner, Strand and Mitchell
---
---
Capitals Sign Mason Mitchell

The Washington Capitals have signed forward Mason Mitchell to a two-year, entry-level contract beginning with the 2017-18 season.

Mason played for the Calgary Northstars starting with the Bantam AA Canucks in the season 2007-08 and ended with Midget AAA in season 2011-2012. He was always a dynamic player for the association. Mason was the type of player that would give 100% on and off the ice. His work ethic and style of play has served him well since graduating from the Northstars and wish him all the success with the Washington Capitals. Congratulations to Mason and his family.

ARLINGTON, Va. - The Washington Capitals have signed forward Mason Mitchell to a two-year, entry-level contract beginning with the 2017-18 season, senior vice president and general manager Brian MacLellan announced today.


Mitchell, 22, registered 14 points (12g, 2a) in 31 games with the University of Alaska-Anchorage (NCAA) this season and led the team in goals and ranked fourth in points. The 6'2", 206-pound forward recorded 13 points (11g, 2a) in 25 Western Collegiate Hockey Association (WCHA) games, including three multi-point games. Last season, Mitchell recorded 12 points (3g, 9a) in 19 games as a freshman and was named Alaska-Anchorage's Rookie of the Year. The Calgary native scored a goal in his first NCAA game on Oct. 9, 2015 at Arizona State and recorded a career-high three points (1g, 2a) on Nov. 14, 2015 vs. Ferris State. Mitchell registered 26 points (15g, 11a) in 50 career games with the Seawolves.

Mitchell will join the Hershey Bears (AHL) on a tryout agreement.

https://www.nhl.com/capitals/news/capitals-sign-mason-mitchell/c-287297820






Bantam AA Canucks - 2007-2008
Bantam AA Canucks - 2008-2009
Minor Midget AAA Canucks - 2009-2010
Midget AA Blazers - 2010-2011
Midget AAA Northstars - 2011-2012
Nanaimo Clippers - 2012-2013
Nanaimo Clippers - 2013-2014
Calgary Mustangs - 2014-2015
U of Alaska - Anchorage - 2015-2016
U of Alaska - Anchorage - 2016-2017

Austin Wagner Signs Contract With LA Kings



The LA Kings have signed forward Austin Wagner to a three-year entry-level contract, Kings President/General Manager Dean Lombardi announced today.

The 19-year-old Wagner (born June 23, 1997) is a 6-1, 185-pound native of Calgary, Alberta who has appeared in 56 games this season with the Regina Pats (WHL), posting 58 points (28-30=58), a plus-42 rating and 83 penalty minutes.

A fourth-round (99th overall) selection of the Kings at the 2015 NHL Draft, Wagner has appeared in 230 games over five seasons with Regina, recording 161 points (77-84=161), a plus-87 rating and 238 penalty minutes. Regina currently leads the Eastern Conference with nine games remaining in the regular season.

(with files from the LA Kings)

http://whl.ca/article/nhls-kings-sign-clague-wagner-to-entry-level-contracts


Austin Wagner played for the Calgary Northstars on the Bantam AA Blazers for the 2010-11 season and ended with Midget AAA after the 2012-13 season. He then moved on to the Regina Pats as a 16 year and has shown that his size, speed and two-way style of play was an asset to his team. Austin is the type of player that works hard on and off the ice always improving his skills to make his game stronger. We wish Austin and his family all the best in the next part of his journey, congratulations.

Bantam AA Blazers - 2010-11
Bantam AAA Sabres - 2011-12
Midget AAA Northstars - 2012-13
Regina Pats - 2013-2017


Austin Strand Signs Contract With LA Kings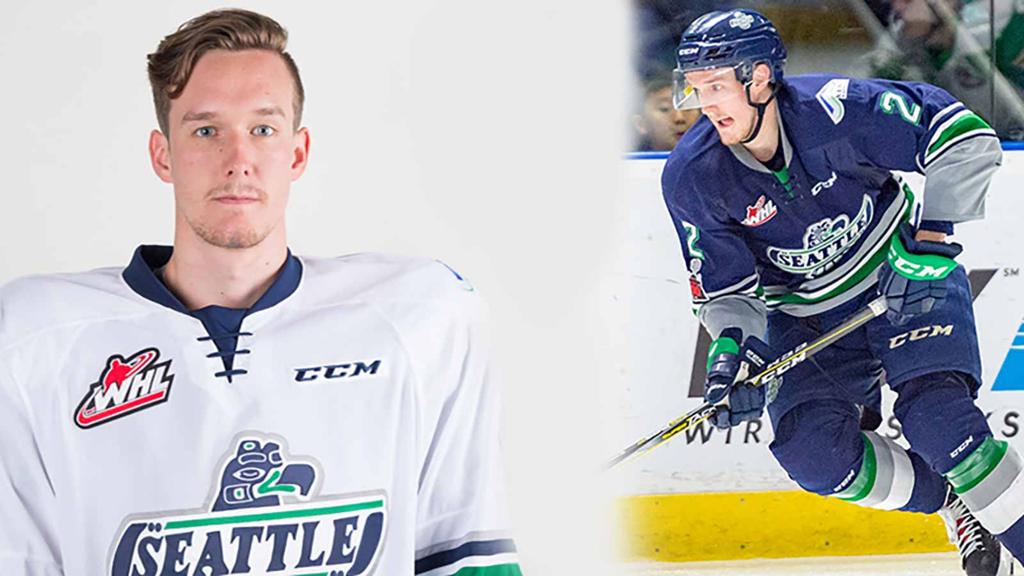 The LA Kings have signed unrestricted free agent defenseman Austin Strand to a three-year entry-level contract, Kings Vice President and General Manager Rob Blake announced today.
The 20-year-old Strand (born Feb. 17, 1997) is a 6-4, 216-pound native of Calgary, Alberta who has appeared in 24 games this season with the Seattle Thunderbirds (WHL), posting 26 points (10-16=26) and 29 penalty minutes in his fourth season in the Western Hockey League.
Austin Strand played for the Calgary Northstars on the Bantam AA Blazers for the 2010-11 season and ended with Midget AAA after the 2013-14 season. He then moved on to the Red Deer Rebels from 2014-17 and since traded to the Seattle Thunderbirds in 2017 and is currently an assistant captain for his team. Austin has shown that his size and speed as a defensemen was an asset to any team he is playing for. Austin is the type of player that works hard on and off the ice always improving his skills to make his game stronger. We wish Austin and his family all the best in the next part of his journey, congratulations.
Bantam AA Blazers - 2010-11
Bantam AAA Sabres - 2011-12
Midget AAA Northstars - 2012-13 and 2013-14
Red Deer Rebels - 2014-2017
Seattle Thunderbirds 2017-2018
https://www.nhl.com/kings/news/la-kings-sign-ufa-defenseman-austin-strand-from-seattle-thunderbirds/c-293416790